Discover more from Armchair Activism
A newsletter for people who are ready to fight for system change, not climate change
The simple language switch that turned us into selfish spenders
It's time to question your consumption, but not in the way you think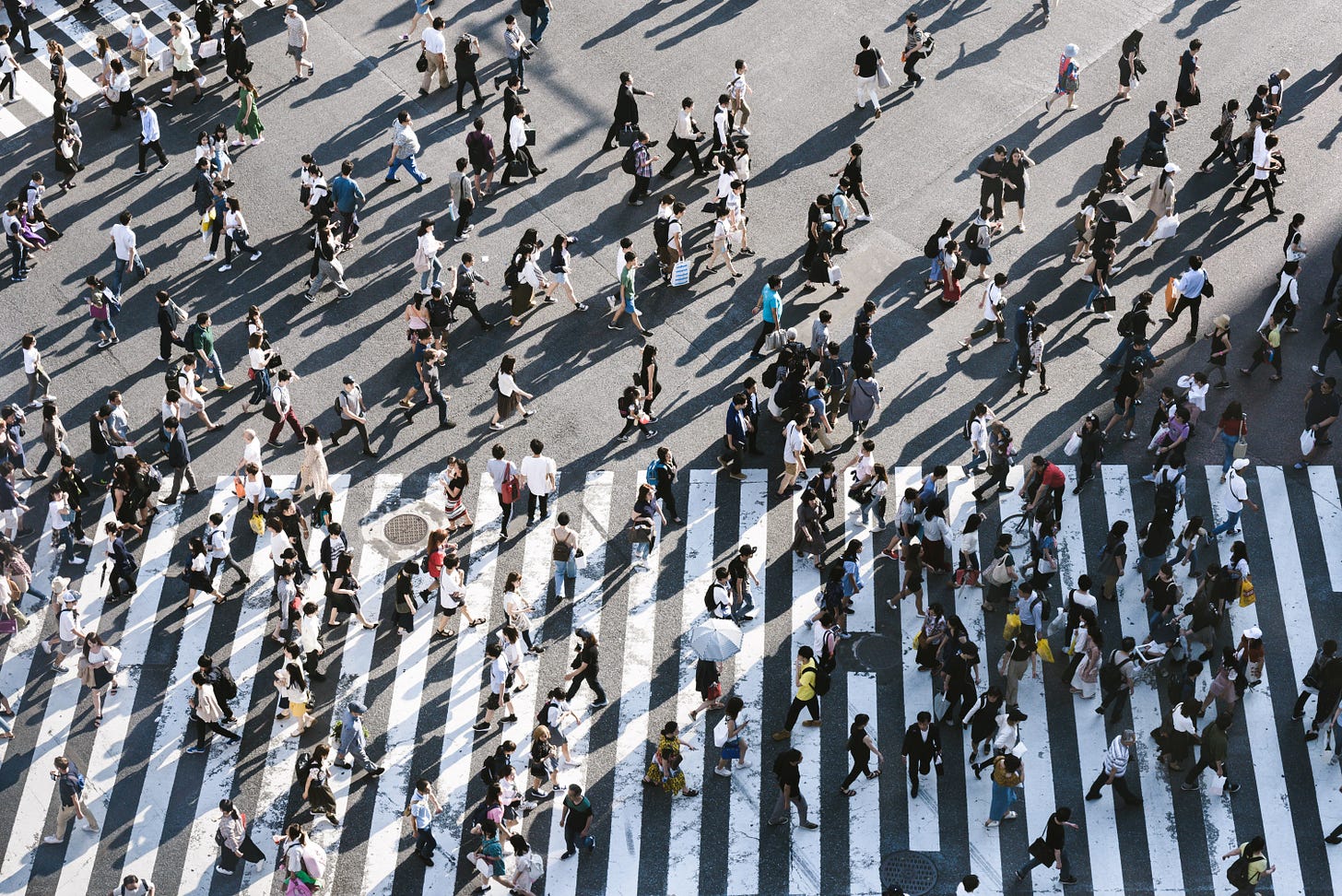 Plenty of statistics show that people care about sustainability when they shop.
And yet actual spending data shows us that, while they might have good intentions, they're not always putting their money where their mouth is.
Unsustainable brands like fast fashion giant Boohoo are booming, and the ethical spending attitude/behaviour gap is to blame.
But why can't we stick to our values when our wallets come out?
And why don't more of us engage in political action that could change the wider system and make it easier for us all to trust products and their sustainable claims?
It could have something to do with our sense of identity...
Everywhere we turn, we are referred to as "consumers".
Our society promotes the pursuit of personal development and attaining material wealth, often above (or even at the expense of) ensuring the welfare of others and the community around us.
Even when it comes to creating change, we're first encouraged to "vote with our wallets" as conscious consumers - spending our money in a way that aligns to the type of world we want to see.
But in this endless, capitalist pursuit of material goods, it's almost as if we've forgotten that we are citizens too.
These two words are frequently interchanged, but are significantly different.
When people are seen as consumers, society becomes a marketplace.
Social problems are addressed with market-oriented solutions, leaving each consumer individually responsible for spotting bad practices.
Whereas as citizens, we often have collective, rights-based protections in place which we can draw upon.
If we want to move beyond a system where individuals are held responsible for "making the right choice" (while corporations and governments continue to fuel the climate emergency), we need to switch our language first.
The term consumer was first used in the early 15th century, when it meant "one who squanders or wastes".
Considering the scale of consumption in our throwaway society today, it seems like the true meaning hasn't changed much.
But this isn't just semantics.
A 2012 study by the journal Psychological Science found that the choice of words has a profound impact on how we see ourselves.
Those that were asked to complete a 'consumer response survey' tended to express more materialistic, self-centred values, compared to those who answered a 'citizen survey'.
Participants who were addressed as consumers tended to distrust other consumers and felt less responsible for the other participants.
Our consumer identity is making us selfish, and that's keeping us trapped in harmful consumption cycle - without consideration that others might be suffering as a result of our purchases.
In recent years, the language of the consumer has seeped into politics too, even when issues don't strictly fall within an economic framework.
A recent opinion piece in an American politician newspaper criticized Trump's plans to build a border wall to tackle immigration by detailing the cost of building and policing it - even pointing out to the reader that "you, the consumer" would be paying for these policies.
If our identity as consumers makes us more individualised, it's no wonder that we've struggled to get a public health crisis like Covid-19, where collective action is required, under control. It explains why we're seeing a swing to the far right in many countries and why anti-migrant narratives get so much airtime.
It may even explain why the UK's Conservative government have banned the teaching of anti-capitalist texts in schools - if they are set to benefit from keeping us in a "consumer" mindset, where we're too busy mistrusting each other and looking out for our own interests to band together and lobby for real change, as citizens.
Our consumer identity is spoken to constantly. The average person encounters between 6,000 and 10,000 adverts daily. We're called to act as consumers so often that it's now our default position.
So when we're faced with huge problems like the climate emergency, our go-to reaction is to shop our way out of it.
We buy green products and switch to low energy lightbulbs, but we struggle to take more meaningful action towards transformative change, because we're not used to thinking and acting like citizens.
Our eco-purchases may even act as a distraction.
Real, transformative change at the pace we need can only come from corporations. And because corporations are driven by shareholder profit, consumer demand is their main motivator to change.
But while we're focusing on small switches and eco-purchases, we're not challenging the wider supply chains and business practices that are polluting the planet. And brands continue to make unsustainable options because we keep buying them.
That's why we need legislation. To regulate the polluters, stop emissions and clean up the corporate world.
But billionaire brand owners and investors spend millions lobbying against this kind of change - because they're benefiting too much from the status quo. And our individual spending habits aren't enough to change that.
It's time to start flexing our citizen muscles instead. Collective political action can and does lead to systemic change. But we need to start thinking of ourselves as citizens first.