Discover more from Armchair Activism
A newsletter for people who are ready to fight for system change, not climate change
What's going on with Oatly?
Controversial choice of investors gets the alt-milk brand in hot water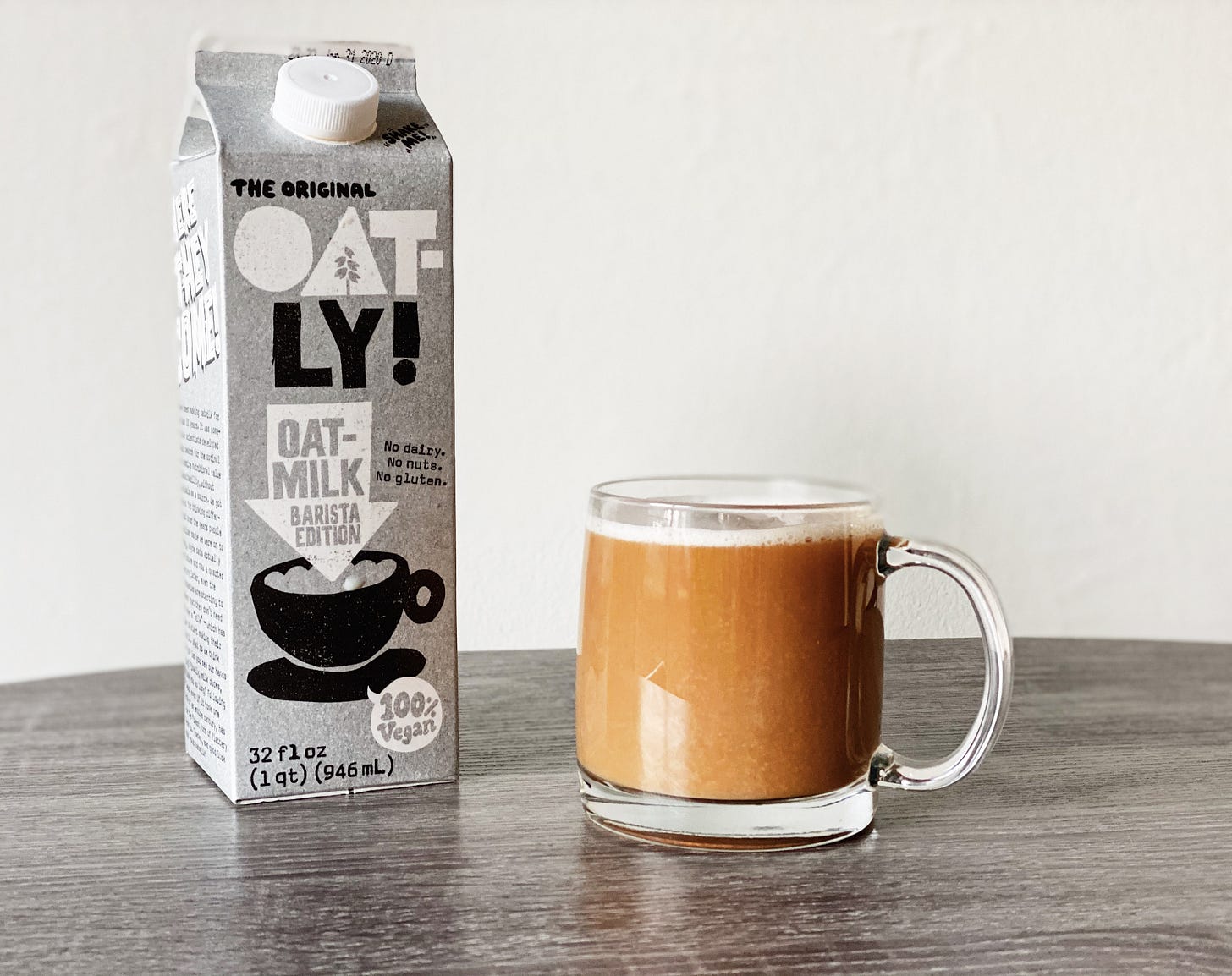 What's going on with Oatly?
If you've been on sustainable Twitter recently you'll have seen the storm unfolding around plant-based brand Oatly.
Here's what went down...
Back in July 2020, Swedish alt-milk brand Oatly sold a minority $200m stake to a group of high-profile investors, including American private equity firm Blackstone, to fund their global expansion. 
While demand for traditional dairy milk is falling, plant-based alternatives are becoming increasingly popular with sustainable consumers and health-conscious shoppers alike.
High profile investors in Oatly now include actor and vegan advocate Natalie Portman, Oprah Winfrey and former Starbucks CEO Howard Schultz. 
But it is their decision to work with Blackstone that now sees Oatly facing calls for customer boycotts and criticism from sustainability influencers on social media.
Eco-conscious Oatly drinkers will be disappointed to learn that this new investor is a driving force behind deforestation in the Amazon rainforest.
Blackstone has helped facilitate a boom in agribusiness in the region, by financing a transit port and commercial highway that runs deep into the rainforest, making it easier and more profitable for farming and mining companies to extract goods from the area.
However, this also drives rainforest destruction as wider areas are being burned to make room for growing grains or soya beans.
Destroying the rainforest is undoubtedly accelerating the negative impact of the climate crisis. Meanwhile, the farms that are being created on this land can only grow crops for 10 to 15 years, before they turn into equatorial deserts and more land needs to be cleared.
Blackstone's CEO Stephen Schwarzman is also one of President Trump's biggest financial backers – financially supporting political interests to ensure that the legislation continues to work in his favour so these unsustainable business practices can continue.
Blackstone now owns 10% of Oatly, which doesn't give them much voting power in terms of steering the direction of the company, but it does mean that profits generated by the plant-based brand will likely be reinvested into activities that undermine their sustainable mission.
Oatly's Chief Executive said that getting a major investor like Blackstone involved is a sign that the world is moving in a "new, more sustainable direction", but many have criticised them for undermining their promise to "be a good business".
Oatly have this week defended their choice of investors on Twitter – again reinforcing their position that this is a way of 'steering capital into sustainability', and funding the rapid growth they have been experiencing – which will help plant based alternatives become even more mainstream.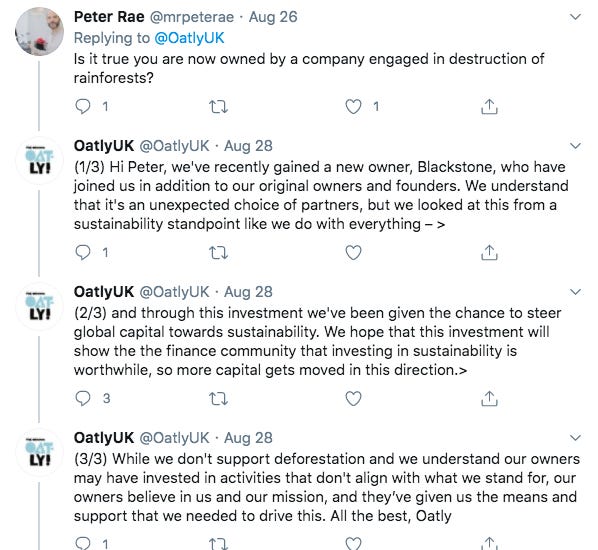 While Blackstone's choice to invest in a sustainable brand may be seen as a positive signal that the future of business is green, it's clear that they have not made this decision with only the environment in mind. 
As any investor would, they have recognised the growing plant-based trend, analysed the market and made what they believe will be a profitable decision. Especially considering that this demand is largely being driven by millennials and Gen Z consumers – who are rapidly becoming the biggest spending power – so it's likely that the plant based market will continue to grow for years to come.
These younger audiences might be using their purchasing power to support the planet, and this investment may give Oatly greater influence and resources to expand their operations, but unfortunately Blackstone's share of the profits will likely still be reinvested into activities, infrastructure and political parties which undermine the sustainable progress that Oatly is trying to make.
Once again we see that short-term shareholder profit is prioritised over the needs of the planet, and conscious consumers (who think they're making the right choice by buying dairy alternatives) are unwittingly financially supporting the perpetrators.
Lots of consumers are now boycotting the brand, but Blackstone are just one investment group who own stakes in over 200+ companies, making the Oatly scandal feel like a drop in the ocean for consumers who try to "vote with their wallets".
Boycotting a brand, or continuing to buy from them when they make decisions you don't support, is a personal choice.
For some people, Oatly is the most widely-available alternative, helping them navigate the dietary complexities of allergies and intolerances. For many, researching the entire investment and supply chains will lead to burnout.
If anything, this case serves to highlight the problem with "conscious capitalism" in a society still driven by shareholder profit, and serves as a reminder of how deep the need for systemic change runs.
Want to challenge corporate power and fix the climate crisis, but don't know how? Subscribe now to read regular articles and insights that help you take radical responsibility for leaving the world better than we inherited it: